Moving music played by Opus Black string trio, solely by candlelight.
How the concert happened
Even before beginning the restoration of This Old Church, I dreamt about doing interesting, moving events that would bring the community together for unforgettable experiences. This concert surpassed even my high hopes.
Living in Boston, I've seen ads for candlelit concerts at historic buildings. Thinking about the acoustics and space at This Old Church – I knew I had to arrange one here. I sought recommendations from Monk Rowe, and he connected me with musical talent extraordinaire Liz "fiddle" Simchik. Liz coordinated the Opus Black Trio to perform September 29th, 2020 at 7pm – just after sunset on this Fall day. We shared a few song ideas, and when I saw the set list, my anticipation grew even more.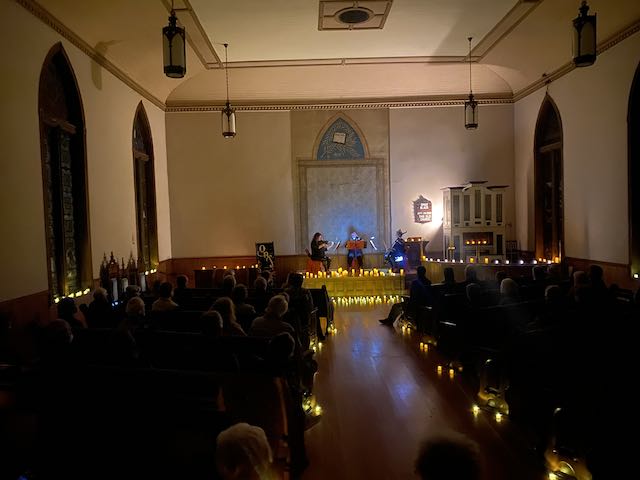 The music that ensued was unforgettable.
Such an amazing concert Thanks!

Sharie Sblendorio
The Set List
Clocks – Coldplay – Watch a Clip
Break on Through – The Doors
Moondance – Van Morrison
Thank You – Led Zeppelin
Creep – Radiohead
Feel it Still – Portugal. The Man
Hallelujah  – Leonard Cohen
Eleanor Rigby – The Beatles
Thank You Next – Ariana Grande
Sunshine of Your Love – Cream
Dancing on my Own – Calum Scott, Tiësto
Ashokan Farewell – Jay Ungar
Whiskey Before Breakfast – Traditional
Besame Mucho – Consuelo Velázquez
Home – Edward Sharpe and the Magnetic Zeros
Kashmir – Led Zeppelin
Havana – Camila Cabello
Just What I Needed – The Cars
Sweet Child of Mine – Guns N' Roses
Janice and I had a great time!! They play beautifully!!

Michael Buneo
About Opus Black
"Opus Black has a penchant for the unorthodox. Repertoire ranges from songs like Break on Through to Bridgerton favorite Bad Guy. They're sure to keep you engaged, and are a great family fun experience."
Allyson Sklar – Viola
Kristen Kopf – Cello
Liz "fiddle" Simchik
Facebook: OpusBlackStringQuartet
Special Thanks
Rich Greene
Don Law
Terry Law
Peg Buzzard, the Gorman Foundation
Monk Rowe
Liz Simchik