This Old Church is a unique, unforgettable venue for any type of event. That's why we're working to create memorable events at this historic site, like the Harvest Dinner, concerts, movies and historical exhibits. It is adjacent to Vernon Center's Maple Park, including its Victorian Gazebo, which along with This Old Church are all parts of the Vernon Center Green National Historic District.
Host your Event at This ld Church
We also welcome you to host your event at This Old Church! Whether it's a wedding, reunion, art class, art exhibit, and something else!
The Sanctuary Hall has high vaulted ceilings over beautifully refinished original wooden floors. The space is filled with beautiful light filtered through remarkable stained-glass windows. It can be wide open, set up with chairs, or tables and chairs. Beyond that, it it is an historic canvas that can be augmented to fit your vision. Under normal circumstances, it can hold up to about 225 people.
The Front Foyer, entered through two porched entryways, has a new hardwood floor, a unique pressed-tin wall and ceiling coverings, and plenty of coat hooks. It is great for ticket and merchandise sales for an event, or welcoming guests for the main event. It is ADA accessible.
The Ground Floor is largely open, with a meeting room, catering kitchen and plenty of staging and storage space. Or it can be transformed into a space for a cocktail reception or meeting.
The 1-acre lush Lawn is overlooked by centuries-old silver maple trees. It has plenty of room for outdoor tents and open lawn festivities. There's also room for dozens of cars to park, with plenty of additional parking available within short walking distance.
The nearby, recently restored and historic Vernon Center Schoolhouse can serve as unique lodging for 4, or as an additional venue fro 5-35.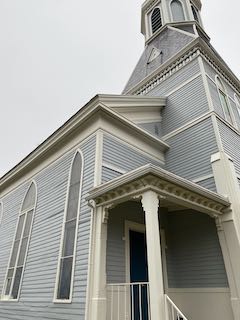 If you'd like to have food or bar service, we let you bring in your chosen professional caterer as long as they are insured and have the proper permits.
Want to have guests arrive by horse drawn carriage? We can help with that!
If you're thinking about a wedding venue, it's great for religious or non-religious services. Either way, it's a memorable spiritual space for your ceremony or reception. And, for your event photos, it can't be beat!