The first event at This Old Church was an amazing fall evening with lively entertainment and a memorable meal, featuring local products, local purveyors, a certified master chef and a star baker. All taking place in a one-of-a-kind, historic building in scenic and historic Vernon Center, New York!
This Harvest Dinner is rooted in history, carrying on a long tradition of harvest dinners at the Presbyterian church. We're paying homage to that tradition of bringing the community together to celebrate the season's bounty for an evening with neighbors friends, old and new.
THANK YOU to the 135 guests and two dozen helpers, who came from near and far (from next door to San Diego, CA), for being part of this memorable evening!
In addition to funding the restoration of another front stained glass window, we donated $3,200 in proceeds to Clear Path for Veterans.
Guests arrived by traditional horse and carriage provided by Maple Hedge Farm, after a tour around historic Maple Park. They received hot mulled cider and a gift bag containing a limited edition pin based on the front door knob design (Egyptian Revival pin), historic Vernon Center photos and various gifts from local businesses.
The Meal
When my colleague and friend Chef Ron DeSantis, one of about 70 certified master chefs in the world, offered to help with the menu and meal, I was flattered. The goal was to create a seasonal and memorable meal, served family-style, that included as many local flavors as possible. Ron made it happen! He was supported in the preparation by Chef Larry Watkins, with catering by Chris Destito and kitchen team at the Savoy Restaurant in Rome.
My friend and classmate Andrea Maranville, runner-up in the Great American Baking Show and owner of Silver City Baking Co. created beautiful vanilla bean ricotta cupcakes and chocolate tort for everyone. And Maria Macrina, who founded The Cremeria in nearby Clinton, completed the dessert plate with 3 seasonally-inspired flavors of gelato!
Appetizers
Fresh Milk Bread Salad Rolls * Silver City Baking
Brussel Sprout Salad with Dried Cranberries
Charred Cherry Tomato Caprese
Endive, Apple and Smoked Almond Salad
Butternut Squash Hummus with Smoked Paprika Squash * Swistak Farm
Hot Mulled Cider * Clinton Cider Mill
Main Course and Sides
Coq au Vin Chicken Legs
Braised Beef Short Ribs
Sweet Potato Mash with Chives * Simmons Farm and Arnie's Produce
Roasted Rainbow Carrots with Ancient Seeds
Desserts
Flourless Chocolate Tort with Ganache Glaze, Cranberry Sauce * Silver City Baking
Vanilla Bean Ricotta Cupcakes, frosted with Italian Meringue Buttercream * Silver City Baking
Pear Sorbet, Pumpkin Spice Gelato, Cinnamon Gelato * The Cremeria
Supporting Worthy Causes
One goal for the dinner was to raise awareness of the importance and beauty of the historic stained glass windows, involving the community in their preservation.
But when given the opportunity, I believe we should help others too. I chose Clear Path for Veterans in Chittenango as the other beneficiary, a place my dad, Don Law, volunteers with his friend Tom Schmitz. Clear Path CEO, Bill Smullen spoke at the dinner to help raise awareness of their important programs, including culinary.
Entertainment
The Hamilton College Saxophone Ensemble dazzled guests with a range of selections from past and present. The ensemble's director, Monk Rowe, taught music at VVS High School before going on the road as a professional jazz musician. On an historic note, after receiving a copy of the program from an 1866 Sunday school Benefit held at this church, Monk found the sheet music for a tune performed that long-ago evening called – Flying Cloud Schottische. Monk orchestrated it for the Hamilton ensemble, who quickly learned it and wonderfully brought it back to life for us!
Stephen Wisser – soprano sax • Jonathan Sills – alto sax • Jin Lee – alto sax
Anna Gagliardi – tenor sax • Tyler Boudreau – baritone sax
Sean Lessard, a professional actor and singer, originally from Chittenango, and currently performing in Rock of Ages in Hollywood, beautifully sang Autumn in New York, accompanied on piano by David Sills of Hamilton College. The song was made famous by Frank Sinatra, Billie Holiday, Bing Crosby and others. But as some in the crowd noticed, in this performance, there was a reference to Maple Park (as opposed to Central Park).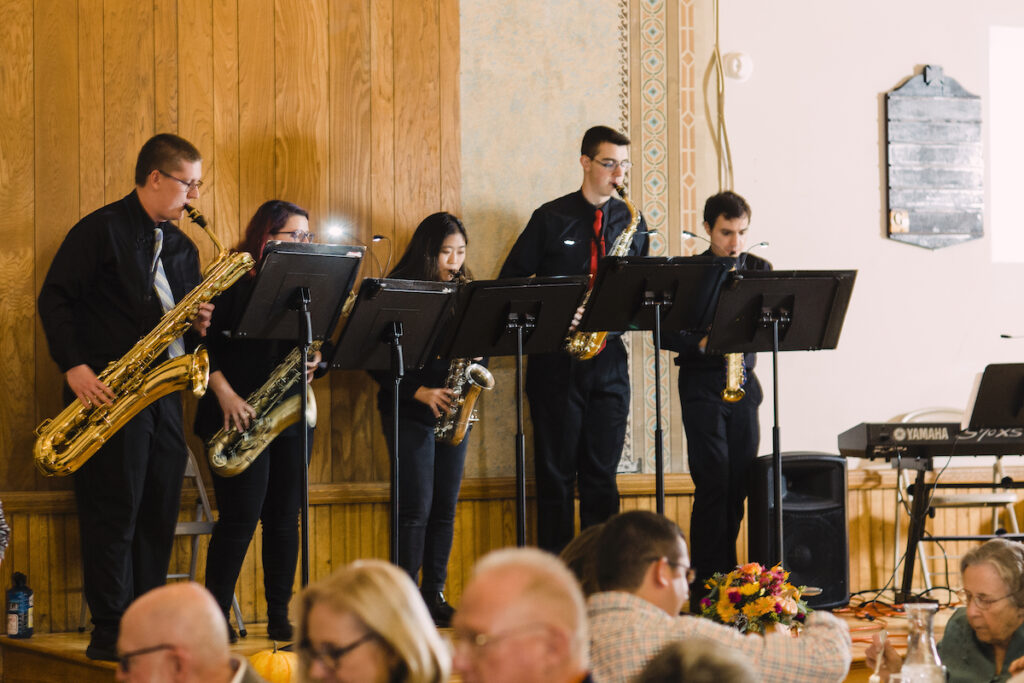 We really enjoyed Saturday; it had the feel of the traditional gatherings that have been largely lost in this digital age.

Dustin Zajac, Vernon, NY


With Gratitude to:
The Volunteer Staff!
Don and Terry Law
Fran Jones
Sue Law
Emily Adams
Donna Rutz
Cindy Swistak
Diane Lummis
Chef Ron DeSantis
Chef Larry Watkins
Brenna Towne
Taylor Towne
Jodi Towne
Kyle Puleo
Cody Law
Tyson Law
Vinnie Bailey
Kaleigh Pfohl
Ethan Law
Raffle Prize Donors
Parkside Deli
Savoy Restaurant
Orvis Store, Rochester
Swistak Farm
Peter H. Reynolds / Blue Bunny Book Store
Peter L. White
Special Thanks
Megan Walker
Don Henry / Sullivan Stained Glass Studios
Urtz Service Company
Bartlett Tree Experts
Clinton Hardwood Floors
Ken Fort / Chobani
Delta Engineers, Architects, & Land Surveyors
Katie & Aaron Falkenmeyer
Augusta Presbyterian Church
Ryan and Christa Gerling
Amanda Larson
Janice Buneo
Bob and LuAnn Jones
Vernon Historical Society
Ralston Supply
Crane Company
Parkside United Methodist Church, Vernon Center
Vernon United Methodist Church
Cindy Faulkner
Larry and Wendy Watkins
Jim and Karen Brown
Maple Hedge Farm
Monk Rowe
Ubaldo Valli/Hamilton College
Matt Lenhart
Vernon Center VFD
Sherrill Kenwood VFD
Alli Streeter
Harlow Bliss Photography
Nicole Comfort
Evans Roofing Company
Record your memories of the event below: