History of the Vernon Center Presbyterian Church
The history of this church, and the building, is rich and fascinating. The following is an overview, with links to more in-depth stories about the history below, and to the right. This is just the beginning, I'll be adding more info as time permits between restoration work.
The Vernon Center Congregational Society, or Vernon Center Society, was formed in 1802, becoming the first organized church in Vernon. The congregation met in member's houses and in a small meeting house.
The original meeting house was built on the green in 1811.
In 1839/1840, the church was moved, reassembled using most of the original materials on the present site, a one acre plot donated to the congregation by Hiram Tuttle. This new, larger church was built in the Greek Revival style.
Most of the present structure, including the steeple and spire, date to an 1885 remodeling, in the Gothic Revival style, which brought stained glass windows, a new front foyer and portico, and a larger steeple and spire that could be seen from miles around.
Timeline
1802 - Congregation Formed
1811 - First Building erected near center of Village Green. Cornerstone reads '1812'.
1839 - Building moved and expanded on present site. According to reports, most of the materials from the original were re-used, so it is unclear whether they moved the whole building or not.
1885 - Renovated and expanded again, with larger 125-foot tall steeple. Official re-dedication in 1886
1973 - The top of the spire is removed from the steeple, decreasing its height from 125 feet to about 75 feet.
2005 - Final regular services held on Christmas Eve. Congregation merges with Augusta Presbyterian Church in Oriskany Falls. Vernon Center building occasionally used as a recreation center thereafter.
May, 2019 - Purchased by Garrett Law. Restoration and preservation initiated.
November 3, 2019 - Reopens to first event at This Old Church, a Harvest Dinner.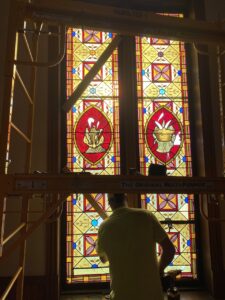 The Russel and Rebecca Church windows are in the back of the sanctuary, on the side of the parking lot.…
Read More