The sounds of an historic pipe organ grace Vernon Center once again. And they come from an organ made by the same organ builder as the original 1837 instrument.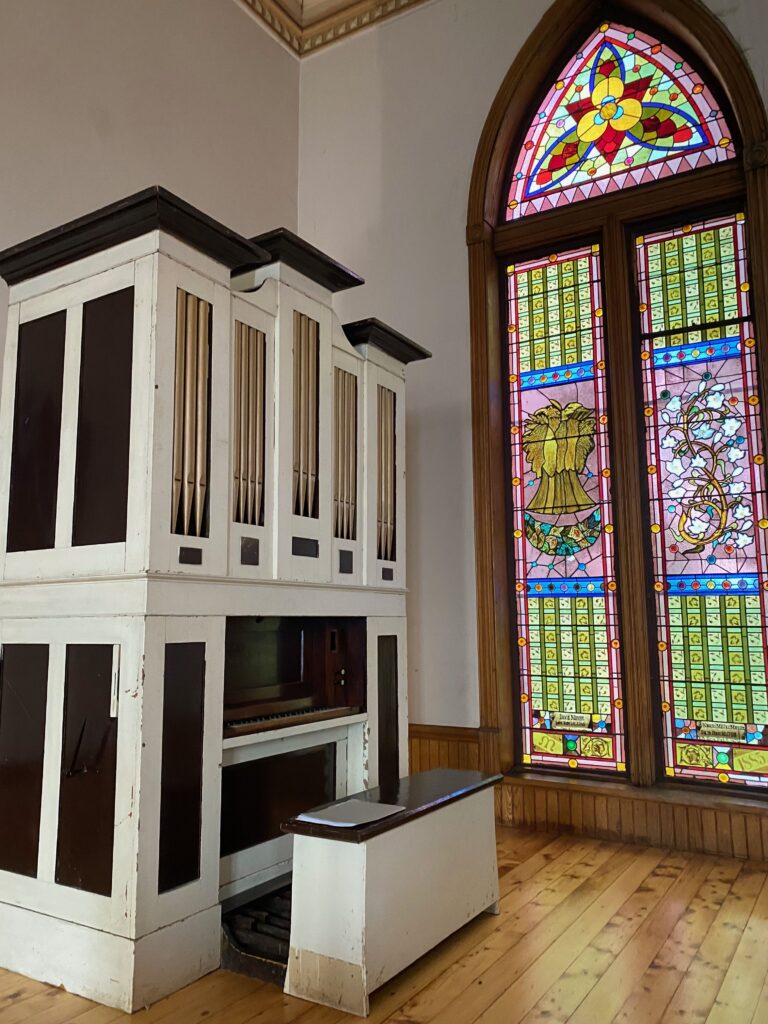 Made around 1853 by Alvinza Andrews for the Unitarian Universalist church of Frankfort, NY, this organ is slightly newer than Vernon's original. Yet, its musical type of 1 manual (keyboard), 3 rank (complete sets of pipes), its shape of 3 columns with a raised center tower, its components, construction methods, and the size of the case and pipes are all very similar to the original. Therefore, its sounds resemble those heard in this space 180 years ago!
While a desire to bring the original organ back to Vernon remains, this step is significant because:
This beautiful important instrument deserves to be heard, far better than storage.
This organ, made in nearby Waterville, NY around the time Andrews moved his factory to Utica, is an important component of local history.
The size and shape, similar to the original, helps one experience the feeling of this space circa 1900 (when the organ was moved from the balcony to the front).
Andrews is an important American organ builder of the 1800s. This installation helps tell his story, and preserve his legacy.
The Frankfort organ, purchased in 1980 from the Frankfort Methodist Church for temporary use at Second Baptist of Worcester, NY., had been in storage since 1981.
Many thanks and much gratitude to Sid Chase, of Chase Organbuilders, who not only had the foresight to save and preserve this organ for decades until it found a good home, but for the painstaking installation work and tuning. Thanks again to Sid and his apprentice Bryan for their great efforts to bring this organ back to life!
Thanks also to Scot Huntington, for the heads-up about this organ being available, for the introduction to Sid Chase, and for your stewardship of the Vernon Center organ.