Historic tea house featured in Mother's Day fundraiser

The Rambler Rose Tea Room, a turn-of-the-century tea house and restaurant formerly in Vernon Center, provided well-to-do guests with "fancy tea in a country setting" from 1913 to approximately 1927.
The tea house was located in a house on Norton Rd (believed to be 5747 Norton Rd). It was started and managed by Florence Tournier. In the 1920s, the Griswold sisters purchased the house and took over the tea room for several years.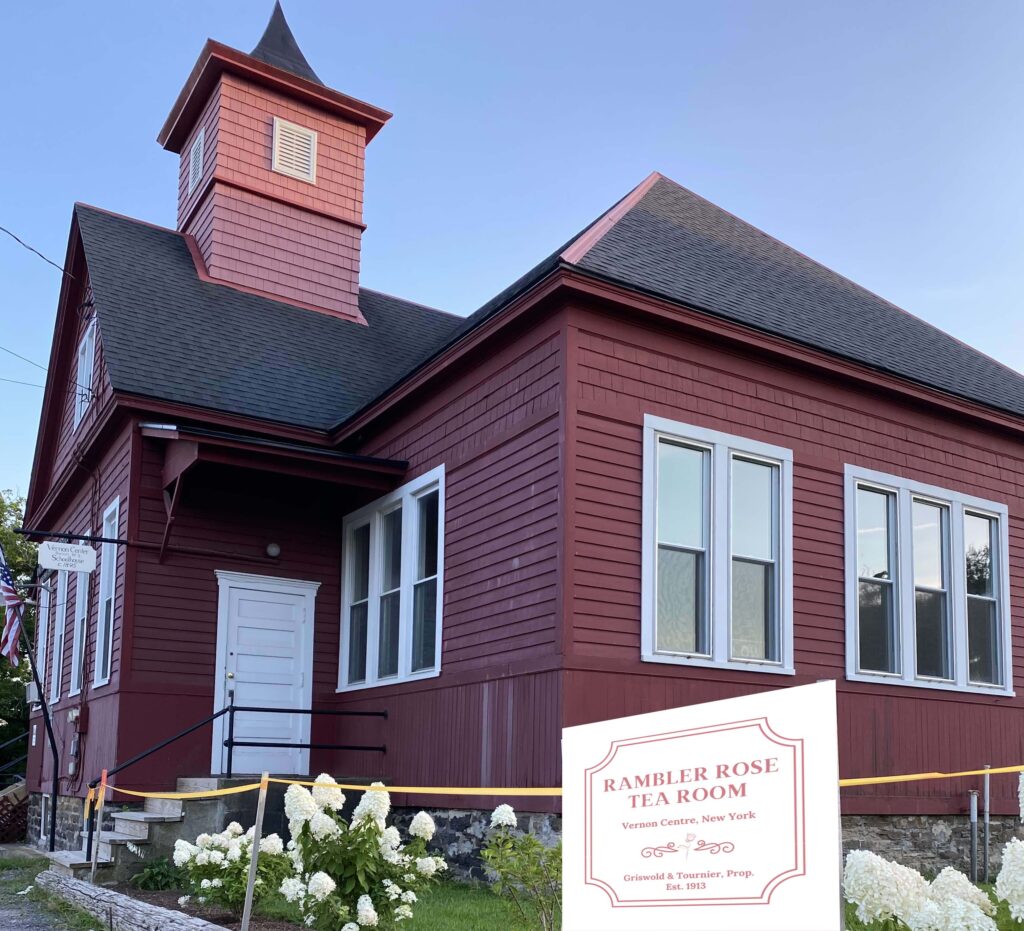 Mother's Day Event 2021
We decided to bring the Rambler Rose Tea Room back as a pop-up experience for Mother's Day weekend 2021. We set up in front of the old schoolhouse, and offered a one-of-a-kind Rambler Rose Tea Gift Box filled with tea, treats, souvenirs, and local history!
Proceeds were earmarked for This Old Church's historic stained glass window restoration fund.
---
Historical Artifacts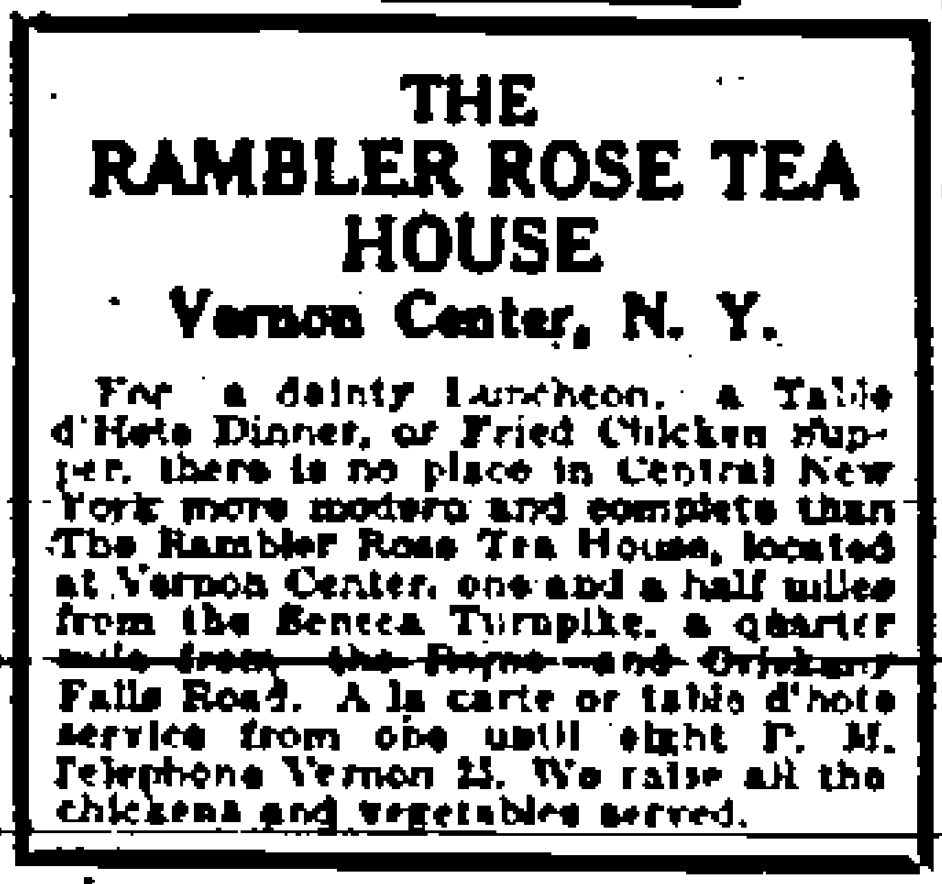 For a dainty Luncheon, a Table d'Hote Dinner, or Fried Chicken supper, there is no place in Central New York more modern and complete than The Rambler Rose Tea House, located at Vernon Center, one and a half miles from the Seneca Turnpike, a quarter mile from the Rome and Oriskany Falls Road. A la carte or table d'hote service from one until eight P.M. Telephone Vernon 25. We raise all the chickens and vegetables served.
The Utica Observer, Sept 16, 1919
Article from Pioneers of Vernon Center
by Dr. H. Eugene Butler
Reprinted with Permission
RAMBLER ROSE TEA ROOM
Dorothy [Chandler] Langford remembers the Griswold sisters running the Rambler R9se Tea Room on Norton Road in the 1913-18 period. It was located where Durrs now live and at the time Dorothy lived next door with her grandparents [Samuel and Elizabeth Law]. 

She recalled, "There was an open porch where tea and refreshments were served. People, mainly women who owned cars came from Utica and other places. They drove open touring cars with side curtains. I remember Mrs. John Ward coming from Vernon. My grandma used to say,'You gotta put on a clean dress if you're gonna be out there in the front yard.' I wanted to watch and see what was going on. "Every day they would hang the fresh washed table linen out to dry. These society ladies probably expected to have the finer things in a country atmosphere. You know, this was unique for them. Norton Road was a dirt road then, dusty when dry and muddy when wet."

Later I asked Viola Wenham if she remembered a Rambler Rose Tea Room. "Oh yes. Two sisters ran it. I believe their name was Griswold. It was in their house and was really a fancy tea room.
 
"When my folks were up on t he farm (on Norton Road) we used to draw our milk down to the Cuomo Cheese Factory in Vernon Center. This was soon after we moved there around 1917. They drew milk with one horse and used what was called a democrat wagon. It had one seat in front and a rack in the back.
 
"One time my brother, John, and Charlie Burke were drawing the milk down to the cheese factory and they thought they'd stop in for something to eat. So they tied their horse out front and went to the door but the sisters wouldn't let them come in. They had their barn clothes on and the Griswolds wouldn't accept that kind of people. It was a fancy place, you know.

"I remember a lady who used to drive up there from Utica. She had an electric car that ran off a battery. And after I went to work at Hamilton College she used to visit the Etheridges where I worked . They ran the Alexander Hamilton Inn in Clinton. She'd stop in Clinton and they sometimes cam together to the Tea Room. Some people came there in their chauffeur-driven limousines. And they'd be all prissied up in their gloves and fancy hats. I remember that. 

"The Tea Room was in the home that they lived in so it's real homey where the guests were served. I've been there loads of times - not to eat but to visit or be with the family 'cause the sisters were aunts to the people I worked for in Clinton."
 
Ruama Noakes also remembers that Rose Tournier [ed. note: Florence Tournier was her name] operated the Rambler Rose Tea House during the 1920s when she lived next door with her aunt and uncle, Myrtle and Ernest Law. 
---